Earlier this year Missouri State Senator Brian Nieves filed for reelection for his senate seat in Missouri's 26th Senatorial District.  Then early in March Brian shocked the political world by saying he had changed his mind and was no longer seeking a second term as State Senator. Instead, he announced that he was going to file for Franklin County Recorder of Deeds.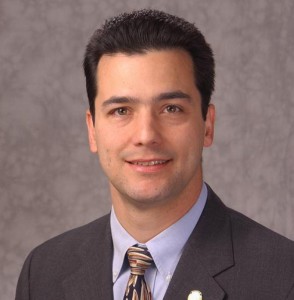 According to Brian at the time, "I am asking ALL Citizens of Franklin County to allow me to continue on the Front Line of Freedom! The Recorder's office is the instrument by which we secure our Private Property Rights and even though some may say the Recorder's Office is not a "Front Line" position, I say it IS!"
Well, that was last month. Now Brian has changed his mind again and announced that he will not be running for Recorder of Deeds. Instead, Brian announced that he would seek the position of Head Librarian for the Scenic Regional Library District.
In a statement issued this morning Brian said that "I am asking ALL Citizens of Franklin County to allow me to continue on the Front Line of Freedom! The Scenic Regional Library District plays an important part where our constitutional rights are concerned. The Head Librarian's job is vital in protecting our citizens First Amendment rights. Even though some may say the Head Librarian's job is dull, boring and inconsequential, I say it's the most important job in East Central Missouri. It's an important "Front Line" position when it comes to defending our god-given rights under the Dewey Decimal system"
Brian also made a fund raising pitch to the citizens of Franklin County. "Please join our team as "Citizens for Nieves" continues what we started some twelve years ago. Twelve years ago we joined hands, arm in arm, to send Energetic New Blood to our state capitol and WE succeeded! Because of the good people of Franklin County I've been able to serve twelve years in our state legislature where I've been honored to serve in Senior Leadership Positions in the House, Senate and at Madison's Cafe. Nobody will ever argue the fact that my twelve years in our state legislature has been heralded as one of the weirdest conservative tenures of any Missouri State Rep or Senator. My twelve years of leadership at our state capitol taught me that our right to read "Cosmopolitan" is constantly under attack and I believe that experience will help me serve you well as your Head Librarian. And besides, I love to read and really enjoy saying  SHHHHHHHHHHHHHHHHHHHHHHHHHH!"